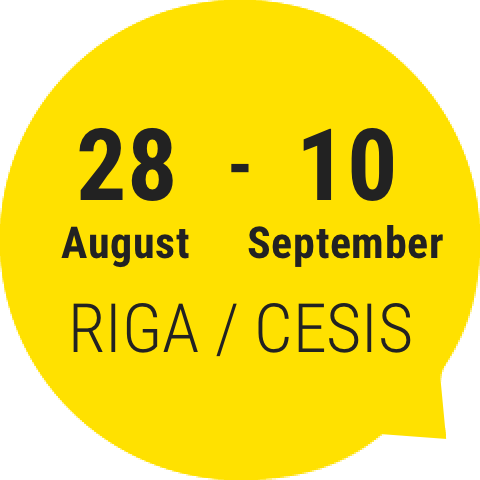 Programme
Party Animals
GolfClayderman (Madona/Riga)
29 August 19:00, Football field at Central Sports District | Free entrance
Both online and offline we are flooded with a heavy load of stereotypes of beauty standards, forcing us to compare ourselves to others and consuming with no end. Shall we wait until we are buried by the giant fashion waste avalanche?
Together wiht artist group GolfClayderman young people from different Riga neighbourhoods are going to challenge the super power of fashion industry by creating alternative collection from materials found in their neighbourhood. At the DIY fashion show Party Animals they invite to discover their version of beauty and success.
To prevent the spread of Covid-19 please don't attend the event if you feel sick, recently have travelled abroad, have been in contact with Covid-19 patient or have to self-isolate!
About artist
GolfClayderman is a fluid collective founded by artists Margrieta Griestiņa and Aksels Bruks. GolfClayderman has organised several personal exhibitions and cultural events, including MABOCA, Madona contemporary art festival. They work as scenographers and costume designers and have participated as performers in the first full length feature film "Flies" made in GTA V environment. High fashion and it's reflections in everyday and DIY visual culture have always been central to GolfClayderman artistic practice.
Credits
Idea: Margrieta Griestiņa and Aksels Bruks / GolfClayderman
Authors and performers: Dārta Gailīte, Justīne Silakaktiņa, Linda Učelniece, Jēkabs Staris, Katrīna Matjušenoka, Katrīna Dambeniece, Asnāte Gulbe, Karīna Beitele, Ardis, Marija Viņķele, Ēriks Āboltiņš, Frīda Šulte, Kristiāns Krastiņš, Justīne Grīviņa, Valērija Silova, Estere Apena, Marta Vijgrieze, Everita Vītola, Laura Millere, Laura Vītola, Rebeka Bārbale, Kristīne Cvetkova, Olīvija Leimane, Francis Virtmanis, Oskars Zikmanis, Marks Poikāns, Agate Meikulāne, Timofejs Pelle, Kristiāna Graumane, Alise Vorobjova, Stefans Ādams Rudzāts, Dārta Grazdanoviča, Eliass Zandmanis, Klinta Doniņa
Mentors: designer Reinis Krūmiņš, style expert Deniss Ševeļovs
Sound: KODEK
Production assistant: Liene Eicēna
Production: Eva Johansone, New Theatre Institute of Latvia
Implemented as part of ACT: Art, Climate, Transition project
Supported by EU programme Creative Europe and Riga City Council
Image: GolfClayderman
Football field at Central Sports District
Address
Open-air performance
Supported by