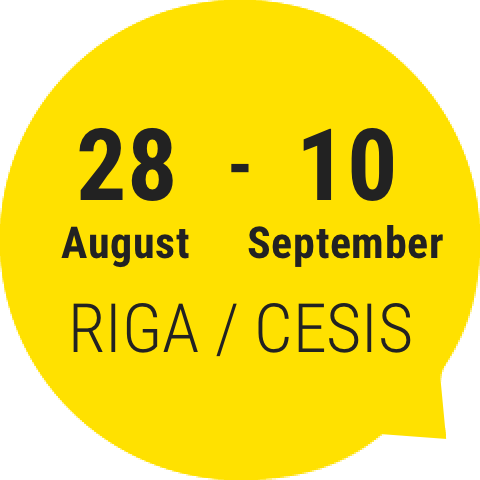 Info
Attention as a form of ethics*
Gundega Laiviņa | Programme curator
International Festival of Contemporary Theatre Homo Novus turns 25 this year – a year when it has been stopped, cancelled, re-imagined and made anew together with artists and team ready to reconnect and gather around some essential values and principles, to dream and create in a landscape where horizon is wrapped in thick and seemingly impenetrable fog. Fragile and fluid, created in extremely short time and complicated circumstances, but full of courage and strength to tackle challenging and often silenced questions – that is our programme this year.
We reclaim time and space as two core elements of performance, avoiding on-line shows and events. In contemporary theatre co-creation is another essential aspect be it before, during or after the show. Therefore all festival works encourage to not only activate the brain and the heart, but also the body. As Congolese choreographer Faustin Linyekula has said: "No knowledge system is complete until it passes through my body."
Regardless of international travel restrictions deadly to an international event, our programme is international thanks to foreign artists who accepted our invitation to work from their homes, be it Central London or deep Mexican countryside, in close collaboration with local co-creators and performers, often leading their voices and ideas to be central in their work.
By announcing the city our stage we challenge the choice by many arts institutions to make their content even more exclusive than before. We merge art and life more radically than we did before as we believe it's the only way to a real confrontation with ourselves and reality. There are works in the festival's programme that will appear and disappear from the public space like a mold – silently and invisibly yet leaving the trace. Others are here to stay and will, hopefully, grow and evolve many years after we are gone.
We encourage to reflect upon the future of theatre as a building – in spatial, but also artistic, social and political sense. And equally – about the public space – who, both human and non-human, are allowed to return and be present in public, who have been pushed out, and to whom it's been always this way.
Several festival works offer radical intimacy in times of distancing, expanding this idea to the world before and after pandemics where distancing is not forced on us but lived voluntarily as this, no doubt, is more comfortable than listening, encountering face to face, touching, practicing attention as a form of ethics.
Perhaps this is the first time after 1995 when we are free again to work differently than before. Therefore we want this festival to be free for everyone. Yet, looking at the foggy horizon in front of us we invite you to donate to one of the future Homo Novus editions thus showing your loyalty and commitment to what we have been doing for 25 years, and support to the new festival team led by artistic director Bek Berger. The value of it shall be decided by you.
Last but no least, this festival edition is very special on a personal level – it has indeed been created in the most challenging circumstances so far, but it is also the last one that I am part of, the end of 15 years long period in my life and life of the festival. Therefore I want to express my sincere gratitude to Pēteris Krilovs and Baiba Tjarve, as well as all members of New Theatre Institute of Latvia for their trust and support, to my colleagues Zane Kreicberga, Sandra Lapkovska, Laura Stašāne, team, friends, supporters, artists and audience for this beautiful journey we have travelled together.
*Title of the poem by American author Asiya Wadud