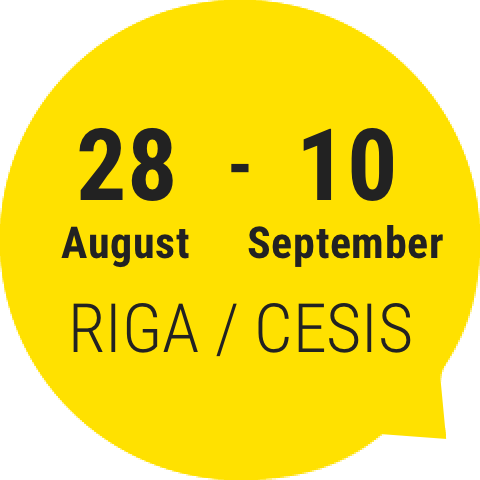 Programme
Walking:Holding
Rosana Cade (Glasgow)
3, 4 September 18:00-20:45, meeting point at Zirgu pasts, Dzirnavu iela 46 | 5 September 11:00-17:15, meeting point at Zirgu pasts, Dzirnavu iela 46 | Free entrance, registration required via bezrindas.lv
Walking:Holding is a subtle, experiential performance that invites you to walk hand in hand with a series of strangers around the city to discover it anew. Designed for one audience member at a time the piece asks people to challenge prejudices in the flesh, and experience first hand what it is to walk in someone else's shoes – or hands. Walking:Holding was first created in Glasgow in 2011 and has since toured extensively across the UK and internationally, working with local participants as performers in each location.
Walking:Holding Riga version is created in collaboration with theatre maker Katrīna Dūka.
About artist
Rosana Cade is a Glasgow based artist who mainly works in live performance. Whilst the form of their work varies and emerges in response to the specific context or inquiry they are engaging with, it is rooted in queer feminist discourse and straddles performance, live art, and activism. Almost all of their work is collaborative, and takes place in different contexts including theatres, galleries, urban public spaces, nightclubs and cabaret settings.
Credits
Author: Rosana Cade in collaboration with Katrīna Dūka
Co-authors and performers: Dan Avangard, Lauris Bernāns, Amēlija Kaulakalna, Ņina Kočetkova, Viktorija Krone, Žulijens Nuhums Kulibali, Nora Nille, K. Babu Rajendra Prasad, Sanija Smildziņa, Annija Vītuma, Gunvaris Zadināns, Marta Monta Zūdiņa
Runners: Aleksandrs Kirillovs, Baiba Kiršteina
Production: Anete Jansone, New Theatre Institute of Latvia, Mary Osborn, Artsadmin
Supported by British Council Latvia
Photo: Rosie Healey
Public city space
Free entrance*
*registration required via bezrindas.lv
Meeting point - Zirgu pasts
Open-air walking performance for one person at a time
Supported by