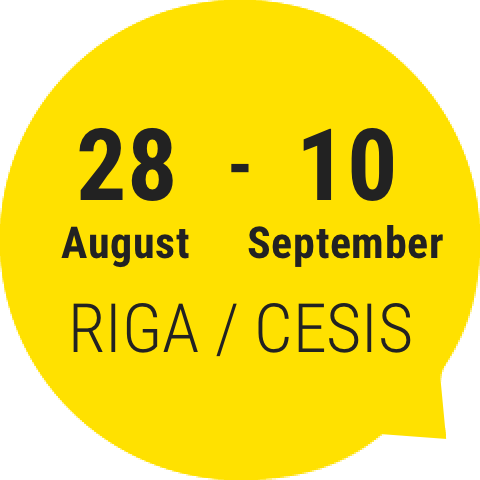 Programme
Got Along Without You Before I Met You Gonna Get Along Without You Now
Artūrs Čukurs, Kirils Ēcis (Riga)
7, 8, 9 September 21:00-05:00, territory of former Sports Palace | Free entrance, registration required via bezrindas.lv
People in cities exist in double reality – they are observers constantly being observed by others. Through this act of observation they shape others and are being shaped by them. It's close to impossible to imagine the landscape beyond one's gaze. To imagine something that exists merely and absolutely, independently from their reference point and applied meanings.
Got Along Without You Before I Met You Gonna Get Along Without You Now is a rupture in the everyday observation patterns and urban structure. A place where presence and absence coexist.
How to become silent and attentive, how to freeze to let the space calm down and return to its natural state like troubled waters do? How to embrace one's own absence?
This first collaboration between young multidisciplinary artists Artūrs Čukurs and Kirils Ēcis takes place in the territory that has not seen humans for decades in hours between sunset and sunraise.
To prevent the spread of Covid-19 please don't attend the event if you feel sick, recently have travelled abroad, have been in contact with Covid-19 patient or have to self-isolate!
About artist
Artūrs Čukurs is theatre maker and musician. He has studied at Latvian Academy of Music and devised theatre in DAMU (Prague). Artūrs is interested in devised methods of theatre making and feels best in the territory where performance meets music.
Kirils Ēcis is a poet, member of the band Alejas. Has published in online magazines Punctum and Satori, one of the authors of young poetry anthology How to prevent itching in your skull? Currently works on his first poetry book. Kirils is interested in moving and still images, endless wandering and long returns.
Ernests Vilsons is a composer and sound artist, born and raised in Liepāja. For last six years he has studied composition and electronic music at the Institute of Sonology at the Royal Conservatoire Den Hague.
Credits
Idea and performance: Artūrs Čukurs, Kirils Ēcis
Sound: Ernests Vilsons
Lights: Maksimilians Kotovičs
Production: Terēze Veinberga, New Theatre Institute of Latvia
Thank you to Renāte Prancāne
Photo: Luīze Lote Nežberte
Territory of former Sports Palace
Free entrance*
*registration required via bezrindas.lv
Address
Open-air walking performance for one person at a time
Supported by