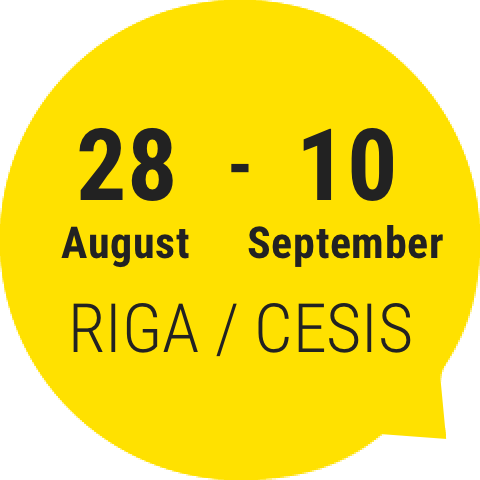 Programme
Where Are The Orders From Above?
Isaac Chong Wai (Hong Kong/Berlin), Krišjānis Elviks (Riga)
31 August 18:00-21:00, Public city space | 1-2 September 18:00-21:00, Public city space | Free entrance
An order, an authoritative command, and the orderliness of our society have always been hierarchical, absolute and doctrinated in the name of security and freedom. We are living under the societal orders which are constructed "from above" telling us what to do, how to act and where to go.
By examining the representations of public order and the desire of living in security, the performance draws us into different structures of movement reflecting our individuality and its connection to the "above".
Please note that the performance is intended as an "appearance" in an urban environment, so the location is approximate (this can happen anywhere in these coordinates), but time marks the beginning of the cycle (one hour). As with hurricane catching, the location and timing are known, but it is not known when and where the whirlwind will be seen. You have to wait or not be late.
18:00-19:00
Building of Latvian Academy of Sciences
19:00-20:00
Brīvības street nearby The Cabinet of Ministers of Latvia, Brīvības Boulevard 36 20:00-21:00
New Hanza City construction site on Mihaila Tāla street
To prevent the spread of Covid-19 please don't attend the event if you feel sick, recently have travelled abroad, have been in contact with Covid-19 patient or have to self-isolate!
About artist
Isaac Chong Wai graduated from Bauhaus-Universität in Weimar, Germany, with a MFA in Public Art and New Artistic Strategies. He works across a range of media, including performance, installation, video and multimedia. Influenced by personal events and global phenomena, he engages themes of collectivism and individualism, geopolitics, migration, historical trauma, identity politics and public sphere. He works and lives in Berlin and Hong Kong.
Krišjānis Elviks is Latvian scenographer and visual artist. He has graduated from the Art Academy of Latvia with a BA degree in Scenography. In his work Elviks explores topics of tolerance, beauty standards, sexuality, normality by using different elements of provocation, irony and crossing boundaries of conventional values and norms.
Credits
Authors: Isaac Chong Wai, Krišjānis Elviks
Performers: Kristiāna Bērza, Agnija Deģe, Lelde Feldmane, Sarmīte Kalniņa, Henrijs Laķis, Karīna Lapšina, Kristīne Logina, Ņikita Osipovs, Mārtiņš Zvirbulis
Choreography assistant: Karīna Lapšina
Sound: Reinis Semēvics
Production assistant: Biruta Elīza Kirmuška
Production Dārta Ceriņa, New Theatre Institute of Latvia
Thank you to Sandijs Ruļuks
Photo: Andrejs Strokins
Language
In Latvian and English
Supported by