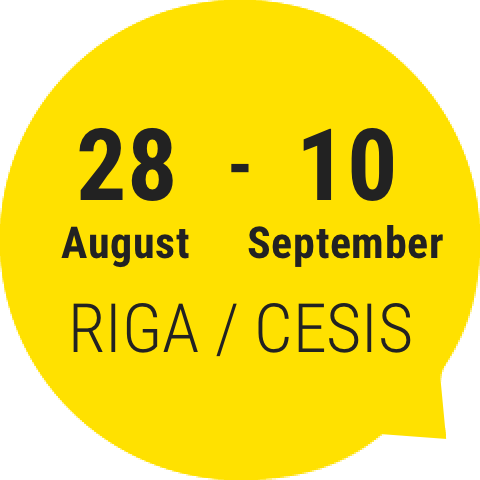 Programme
trees have stopped talking since then
Krista Burāne (Cēsis)
6-10 September 15:00-16:40, Meeting point - National Theatre | Free entrance, registration required via bezrindas.lv
It's not a secret that there are more trees cut than planted in the city of Riga. Empty places overgrow with grass or concrete, shadow made by leaves disappear from the streets leaving no refuge, place for taking a breath.
'trees have stopped talking since then' is a processual work that expands and develops every festival day and, hopefully, many decades after. It invites to imagine the thoughts of 27 year old Georg Kuphaldt, director of Riga parks and gardens, while he planted linden trees along the Riga Boulevard Ring in 1880, and while observing one of the young trees grow, to grasp such a strange process as life.
To prevent the spread of Covid-19 please don't attend the event if you feel sick, recently have travelled abroad, have been in contact with Covid-19 patient or have to self-isolate!
About artist
Krista Burāne is documentary theatre and film maker. She has studied philosophy and directing. Her work is socially and politically engaging, inviting audience to participate and co-create. Krista's work has been awarded with national theatre and film awards of Latvia, invited to theatre and film festivals in London, Copenhagen, Den Hague, Riga, Reykjavik, Stockholm. Krista makes work for Homo Novus festival since 2008.
Andris Eglītis has studied painting at Latvian Art Academy, Repin Institute of Art St Petersburg and HISK Ghent. Next to painting he makes sculpture and installation embedded in the nature that surrounds his studio in countryside of Latvia. His work reveals profound interest in relationship of material and non-material, aesthetics and functionality. Participates in exhibitions since 2000, has received most prestigious visual art award of Latvia, the Purvītis prize in 2013. Together with Katrīna Neiburga was co-author of Latvian exhibition at the 56th Venice biennale.
Credits
Idea, dramaturgy, direction: Krista Burāne
Co-authors and participants: Bārbala Bērziņa, Krista Burāne, Dārta Ceriņa, Iluta Dauškane, Helma Križevica, Tūrs Selga
Artists: Andris Eglītis, Mārtiņš Dziļums, Edvarts Logins
Sound editing: Edgars Skrāģis
Production: Ieva Briede, New Theatre Institute of Latvia
Implemented as part of ACT: Art, Climate, Transition project
Supported by EU programme Creative Europe
Thank you to Edgars Neilands and Good Trees, Andrejs Svilāns
Image: Tūrs Selga
Public city space
Free entrance*
*registration required via bezrindas.lv
Supported by