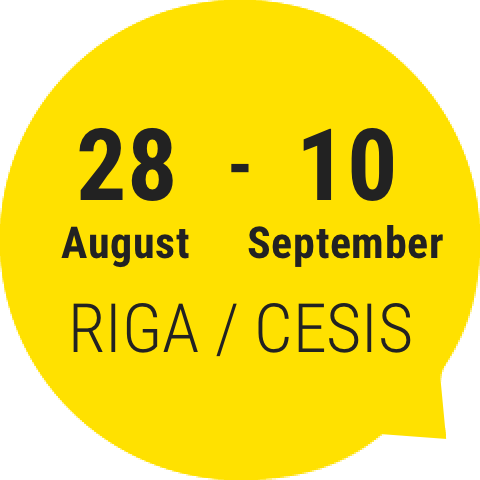 Programme
Physical Evidence Museum
Jana Jacuka, Laura Stašāne (Riga)
3-8 September 16:00-20:00, Apartment on Avotu iela 73-28 | 9-10 September 12:00-12:00, Readings | Free entrance
Like many important things, it evolves gradually and then suddenly. At the beginning everything is ok, even nice and romantic, until it turns out that you do everything wrong. Suddenly you are controlled, your belongings, choices, self-esteem and even thoughts are taken away, replaced by freezing fear and shame.
Or – you are a kid, you have a house and parents and that's exactly what a kid needs. But then you understand that something is wrong at home, that there is something happening that should not be taking place. Yet, the whole world of yours is made of your parents, you don't know another life and even if you did, there is no place to go.
Every third woman in Latvia has survived emotional, physical, economic or sexual violence at home. 17% of cases end up in police, while 83% remain at home. Only women know what happened. However, it's not a secret you have to carry alone.
Physical Evidence Museum is a silent exhibition with live elements on a display in an ordinary apartment. Its exhibits are things that have witnessed violence. No court would ever recognise them as credible evidence. Here, however, these everyday objects speak louder than deadly silence that follows the act of violence.
On the final day of the exhibition the 24h marathon of public readings will be held – a symbolic act to confront the silence with voice.
To prevent the spread of Covid-19 please don't attend the event if you feel sick, recently have travelled abroad, have been in contact with Covid-19 patient or have to self-isolate!
About artist
Jana Jacuka has graduated from contemporary dance department at the Latvian Academy of Culture and is actively working as dance and performance artist. In her work Jana focuses on fragility and personal experience. In her recent performances Everything will be ok (2019) and Routine of Fear (2020) Jana explores domestic violence. Since then it has become central to her practice.
Until recently Laura Stašāne has worked at the New Theatre Institute of Latvia where she initiated and managed several local and international art projects focusing on development of emerging makers, co-creation with communities, collective intelligence and new forms of cooperation. Since 2016 Laura works as dramaturge in different projects. Currently she explores ways how to talk about domestic violence in public.
Credits
Authors: Jana Jacuka, Laura Stašāne
Artist: Izolde Cēsniece
Designer: Sabīne Ozoliņa
Sound: Jēkabs Nīmanis
Museum assistants: Ramona Galkina, Jana Jacuka
Participants at readings marathon: Annija Riekstiņa, Anastasija Neimane, Adriāna Roze, Anna Grabovska, Ieva Skadiņa, Agnese Berele, Lilita Berele, Marta Vaivode, Paula Luīze Pastore, Jana Aizupe, Karlīna Jansone, Džeina Mieze, Jana Jacuka, Sabīne Ozoliņa, Elīna Ceijere, Karīna Bāliņa, Laura Stašāne, Paula Terehova, Ramona Galkina, Arina Buboviča
Production assistant: Jana Aizupe
Production: Sandra Lapkovska, New Theatre Institute of Latvia
Thank you to Anna, Daina, Karlīna, Pegija, Sabīne and all women, who have shared their experience, Estere Betija Grāvere, Flo Kasearu, Vinsents Nātra, Irina Mazurika and resource centre for women Marta
Implemented as part of Magic Carpets project
Supported by EU programme Creative Europe, Ministry of Culture
Photo: Laura Stašāne
Museum
Readings
Apartment
Language
Museum - in Latvian and English, readings - in Latvian
Supported by