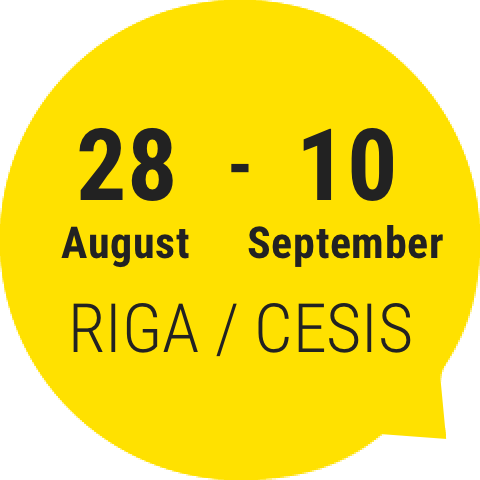 Programme
Time Has Fallen Asleep in the Afternoon Sunshine
Mette Edvardsen (Oslo)
5-10 September 15:30-19:00, Latvian National Library, Mūkusalas iela 3 | Free entrance, registration required via bezrindas.lv
A group of performers have each memorised a book of their choice. They form a collection of living books that spend their time in the library waiting to be picked up.
Characterised by a great economy of means, the work of artist Mette Edvardsen explores the sensitive space between performance and language. Inspired by Ray Bradbury's Fahrenheit 451 which describes a world in which all books have been burned, Time Has Fallen Asleep in the Afternoon Sunshine is a remarkable experience. With disarming naturalness and without the intermediary of a physical object, the living books remind us that learning a text "by heart" is an act of love that mobilises memory as much as forgetfulness.
To prevent the spread of Covid-19 please don't attend the event if you feel sick, recently have travelled abroad, have been in contact with Covid-19 patient or have to self-isolate!
About artist
The work of Norwegian artist Mette Edvardsen is situated within the performing arts, dance and choreography. Although her work explores other media and formats, such as video, books and writing, her interest is always focused on the relationship to the performing arts as a practice and a situation. Based in Brussels since 1996, she has worked as a dancer and performer for a number of companies, and developed her own work since 2002. A retrospective of her work was presented at Black Box theatre in Oslo in 2015. In 2010, she initiated the project Time has fallen asleep in the afternoon sunshine, which refers to a quote from the Ray Bradbury novel Fahrenheit 451 (1953), to develop memorisation as a practice and ongoing process.
Credits
Idea: Mette Edvardsen
Living books: Valdis Ābols, Agate Bankava, Māra Brašmane, Dmitrijs Gaitjukevičs, Reinis Ivanovs, Rasa Jansone, Pēteris Krilovs
Production: Santa Remere, New Theatre Institute of Latvia
Photo: Elly Clarke
Latvian National Library
Free entrance*
*registration required via bezrindas.lv
Language
In Latvian or Russian
Address
For one person at a time
Supported by