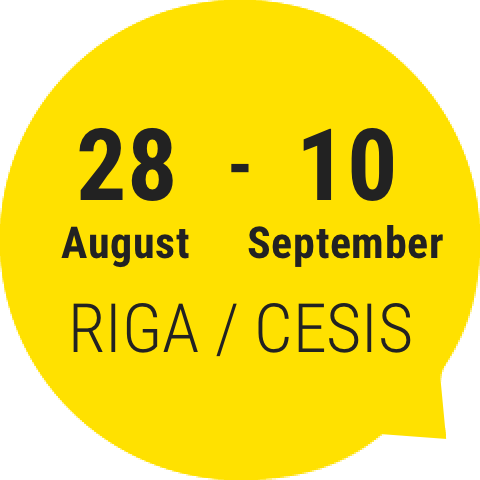 Programme
Svidanka
Authors collective (different Latvian cities)
2-6 September 13.00-19.30, Science and Art Centre Brūzis, Cēsis | Free entrance, registration required via bezrindas.lv
A meeting place Svidanka invites you to meet ten young men from different parts of Latvia. Born and raised in different environments, now they spend their lives together (but separately) in Cēsis Educational Institution for Minors.
Currently they share the same physical space, yet have their own coming of age story and unanswered questions about time inside, time outside, time before and after the sentence. Their stories can be witnessed in Svidanka – a place that can dismantle an invisible wall or build a bridge between two strangers – one from inside, another one from outside.
To prevent the spread of Covid-19 please don't attend the event if you feel sick, recently have travelled abroad, have been in contact with Covid-19 patient or have to self-isolate!
About artist
Alberto di Gennaro holds a degree in Arts and Architecture. He has lived, studied and worked in Italy, France, Germany and Latvia. Working in and across a diversity of artistic disciplines and cultural contexts, he has in recent years focused on theatre and curating. For the past 3 years, he is the artistic director of Art Space MALA, in Cēsis. In 2015 and 2016 Alberto started to cooperate with CAIN, leading theatre based workshops that resulted in performances "Everything is ok" and "Without them", a documentary movie "Without Them" by film director Dāvis Kaņepe and an album "23 carats" recorded in partnership with hip-hop musician, beet-maker and producer Ansis Kolmanis (Dirty Deal Audio).
Linda Krūmiņa is dance and theatre maker and dramaturge. She graduated audiovisual and theatre theory at the Latvian Academy of Culture and continued her MA studies in contemporary dance. Linda has participated in various dance master classes, theoretical seminars, workshops related to dance critics and writing. She has worked as a dramaturge, choreographer and as a contemporary dance critic. Professional interests involve relationships between society and individual, and the possibility to meet each other through art.
Lauma Žubule is a non-formal education coach and practitioner and supervisor with more that 13 years of experience working with youth workers, teachers and young people of different backgrounds.
Credits
Idea: Alberto Di Gennaro, Linda Krūmiņa, Sandra Lapkovska, Lauma Žubule
Authors and performers: Mārtiņš, Cigan, Semanuels, Rafaels, Liepājnieks, Roberts, Kaspars, Puškins, Jautrais Andris, Pēteris
Advisors: Common Wealth Theatre (UK)
Production: Sandra Lapkovska, Latvijas jaunā teātra institūts
Partners: Cēsis Educational Institution for Minors, Latvian Prison Administration, Festival of Conversations Lampa
Implemented as part of Magic Carpets project
Supported by EU programme Creative Europe, Ministry of Culture
Photo: Kristīne Auniņa
Science and Art Centre Brūzis, Cēsis
Free entrance*
*registration required via bezrindas.lv
Address
For one person at a time
Supported by