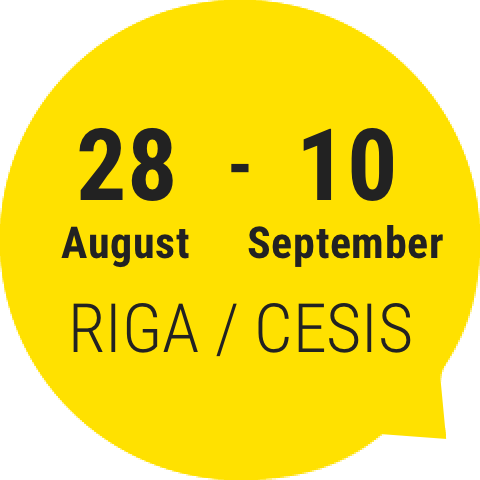 Programme
One More Chance
Anda Lāce and Oļesja Kozlovska (Riga)
8 September 13:00-20:00, Public sauna on Mārtiņa street | Free entrance, registration required via bezrindas.lv
'Give me better medicine, please', a patient of the Psychoneurological hospital dedicates a poem to Latvian health minister. He dreams about publishing a poetry book and saves money from his pension. He has been isolated for years and has found his cure in writing. While he writes the world around him boils up; diseases and evil spread with no cure.
Durational performance One More Chance invites to clear your head, wash your heart and sweat your bitterness away.
To prevent the spread of Covid-19 please don't attend the event if you feel sick, recently have travelled abroad, have been in contact with Covid-19 patient or have to self-isolate!
About artist
Anda Lāce has studied painting at Latvian Art Academy and Manchester Metropolitan University. Since 2003 she participates in exhibitions in Latvia and abroad, since 2005 helds solo exhibitions. Anda has worked as co-creator, set designer and performer in several shows by Drawing Theatre. Thanks to her experience in independent theatre Anda has developed profound interest in performance. Since 2010 she creates performances, often in close collaboration with composers of contemporary classical music. Her paintings, performative actions, installations and scultptures are all tightly interconnected in one ongoing practice. Since 2019 Anda curates Sansusī well-being programme in Aknīste.
Oļesja Kozlovska is a composer of acoustic and electroacoustic music interested in environmental sounds and acoustic specifics. Oļesja has graduated from Latvian Academy of Music, has studied in exchange programmes in Iceland and Germany. She has been commissioned by collectives such as Simfonietta Riga, Sinfonia Concertante, Fractales Ensemble, has participated in various new music festivals in Latvia and abroad. Kozlovska's music has been performed in Latvia, Lithuania, Estonia, Austria, Iceland, Denmark, Norway and Germany.
Credits
Author and perfomer Anda Lāce
Sound and co-author: Oļesja Kozlovska
The work is created in cooperation with patients and staff of Aknīste Psychoneurological hospital, clients and staff of Aknīste Social centre, Aknīste inhabitants
Photo: Ivars Drulle
Public sauna on Mārtiņa street
Free entrance*
registration required via bezrindas.lv
Address
Please note, that performance takes place in a real sauna situation. Please take your own swimsuit, towel, slippers and sauna hat with you, or dress lightly as performance space will be hot and humid. Spectators are strictly adviced to arrive at time of their registration.