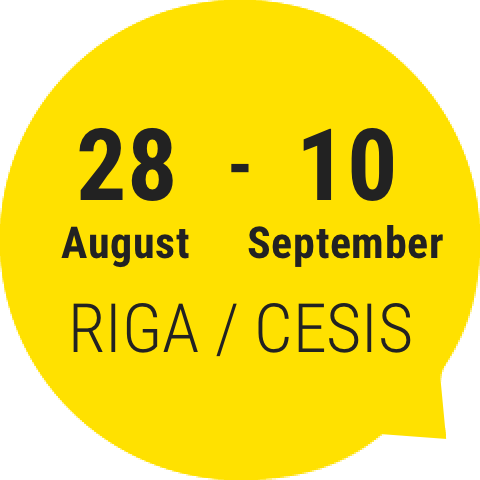 Programme
Sparks
Francesca Grilli (Brussels)
10 September 19:00-20:30, Latvian National Library | Free entrance, reservation required via bezrindas.lv
The closing show of the festival invites you to look into the future with child's eyes.
You enter the space and witness a community of oracles – a group of local children who have studied palmistry and the art of divination. Their faces are hidden behind masks but you can hear their voices. How does it feel to have a child tell you your destiny?
Sparks, created in Latvia in collaboration with artist Kate Krolle, create a space where the usual power relationships between the child and the adult are inverted. The children become oracles here, questioning the idea of knowledge as a privilege of adults. They know your future, while you have no clue.
To prevent the spread of Covid-19 please don't attend the event if you feel sick, recently have travelled abroad, have been in contact with Covid-19 patient or have to self-isolate!
About artist
Francesca Grilli is an Italian artist currently based in Brussels. She uses a multidisciplinary language where the performance flows between visual art spaces to performing festivals, with a special attention to sound in all its forms and registers. Grilli has developed several projects around the concept of the resistant body. Present in every artwork is in fact a disappearance, which is the result of an action contained in the work itself.
Francesca Grilli's work has been presented in many art institutions and festivals across Europe.
Kate Krolle is a graduate of the Art Academy of Latvia and the post-graduate of the Audiovisual research centre Le Fresnoy in France, where she has received the Les amis du Fresnoy award. Using a variety of media, the artist examines the relationship between nature and human life along with experience and instincts, as well as loneliness as a permanent state of human being. To capture the fragile and obscure nature of Kate's work time and contemplation skill is required.
Credits
Creation: Francesca Grilli in collaboration with Kate Krolle
Authors and perfomers: Katrīna Mūna Maizīte, Jānis Kuplais, Jēkabs Indriķis Vizis, Marta Rūta Dūmkalna, Anna Māra Kivkule, Grēta Čevere, Katrīna Sīle, Jasmīna Kozule, Emīlija Kozule, Maija Reine Miteva, Ulrika Gabaliņa
Sound: Roberto Rettura
Palm reading: Guido Rossetti
Words: Azzurra D'Agostino
Movements: Benno Steinegger
Hat designer & realization: Paola Villani
Producer: Chiara Massari
Diffusion and care: Giulia Traversi
Administration: Chiara Fava
Production: Corpoceleste_C.C.00# (ITA) Santarcangelo Festival (ITA) Snaporazverein (CH)
Co-production Welcome to the village (NL) SAAL BIENNAAL (ET) in collaboration with Workspacebrussels (BE)
Photo: Francesca Grilli
Latvian National Library
Free entrance*
*registration required via bezrindas.lv
Supported by