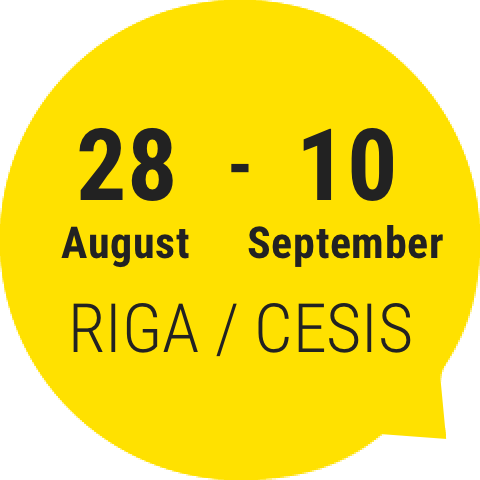 Programme
A Mile in My Shoes
Clare Patey (London)
1-10 September 13:00-16:00, 18:00-21:00 Gallery Alma Tērbatas iela 64 | Free entrance
What's it like to have been a prisoner of war? To be a sex worker, miner or refugee? Or to have rediscovered love in your eighties? Empathy Museum invites you to take a moment to look at the world through someone else's eyes.
Established in 2015 by artist Clare Patey, the museum explores how empathy can not only transform our personal relationships but also help tackle global challenges such as prejudice, conflict and inequality.
A Mile in My Shoes is Empathy Museum's travelling interactive shoe shop, where you can walk a mile in someone else's shoes – literally – while listening to them tell a story about their life. With a diverse collection of over 250 shoes and stories collected from around the world, A Mile in My Shoes invites you on an empathic and physical journey.
There are 10 Latvian stories added to the global collection of stories and shoes, produced by filmmaker Adriāna Roze. The audio-collection is available on Empathy Museum's website.
To prevent the spread of Covid-19 please don't attend the event if you feel sick, recently have travelled abroad, have been in contact with Covid-19 patient or have to self-isolate!
About artist
Clare Patey is director of Empathy Museum, a selection of work exploring empathy as practice, and an award winning artist and curator who creates social spaces in the public realm that bring people together in conversation, participation and celebration.
Clare was the creator and director of the critically acclaimed Museum Of – a five-year participatory museum project on the Southbank, The Ministry of Trying to Do Something About It for the New Economics Foundation, and annually curated Feast on the Bridge for the Thames Festival. Clare is currently part of the collective Edible Utopia who are creating an urban farm at London's Somerset House.
Adriāna Roze is a filmmaker whose work explores the interaction of individual and collective consciousness. Her visual language is inspired by the aesthetics of music and movement. Her work has been recognized in local and international film forums – the documentary "Lords of Riga" (2015) won the Latvian National Film Award "Lielais Kristaps" in three categories.
Credits
Author: Clare Patey
Producer of Latvian stories: Adriāna Roze
Local storytellers: Jūlija Brauere, Pēteris Ceplis, IVKA, Elīza Liepiņa, LINARDS, Aleksandrs Margolins, Ilze Medne, Irīna Odziņa, Baiba Rūde-Labsvārda, Rūta Rudze
Sound direction and advice: Ģirts Bišs
Shop assistants: Urzula Landorfa, Ieva Kampenusa, Didzis Ruicēns, Antra Salmgrieze
Production assistant: Biruta Elīza Kirmuška
Production: Arts Admin, Dārta Ceriņa, New Theatre Institute of Latvia
Supported by British Council Latvia, Gallery Alma, Rīgas meži
Special thanks to Astrīda Riņķe, Dace Bruģe, Mārtiņš Mielavs
Photo: Empathy Museum
Language
In English, Latvian or Russian
Address
Headphones will be provided, however, to prevent the spread of Covid-19 we advice bringing your own headphones with 3,5 mm jack, if possible.
Supported by